What's everyone watching for this challenge? From the reports, lots of different movies and three TV shows.
For the TV shows, I suspect the only suspense may be the ranking. And the order is:
1. The super popular and super costume drama
Poldark
, based on Winston Graham's historical novels set in 18th century Cornwall, which I have yet to see but intend to!
2. War and Peace, which I'm assuming is last year's magnificent
BBC mini-series
starring Paul Dano as Pierre and -- just one tiny fault -- someone as Natasha who tries a bit too hard, but it could be the
1972 BBC mini-series
with a young Anthony Hopkins as Pierre, or the
2007 Russo-European mini-series
with Malcolm McDowell, not as Pierre, a role it would be hard to imagine him in even when he was in the right age group, but as the cruel and controlling -- or to put the role firmly in Mcdowellian territory, let's say monstrous -- Prince Bolkonsky.
3. Last year's hit series
The Night Manager
, starring Tom Hiddleston and Hugh Laurie, which I have just been notified is waiting for me at my library, based on the
book by John le Carré
.
And for those who have already seen all of the above, or who are simply looking for something new, may I suggest the
Inspector Montalbano
TV series based on the
crime novels by Andrea Camilleri
. The 91 year old Sicilian writer is a literary treasure in Italy, perhaps the only literary treasure after the recent loss of Umberto Eco, whose medieval mystery
The Name of the Rose
sparked a hit
film adaptation
starring Sean Connery which you could also watch for this challenge!
Inspector Montalbano lives in corrupt modern Italy, where he is a thorn in the side of both his superiors and the shady types he pursues, an idiosyncratic loose cannon whose greatest satisfaction, besides getting his man, is enjoying a good meal.
The movies
Movies people have been watching for this challenge include (besides various Harry Potters and Narnias)
Room
,
The lady in the van
,
The Martian
,
Gone girl
,
The book thief
,
Mr Pip
,
Me before you
, and
Love, Rosie
, all from books of the same name. Also
Carol
, from Patricia Highsmith's 1952 novel
The price of salt
, pretty much unknown until the movie came along, as she had published it under a pseudonym, presumably for being a story of two women in love in the conformist fifties -- although Highsmith aficionados have postulated that it could also have been because someone who was on her way to becoming famous as a writer of crime novels did not want her name associated with a romantic novel, period. And how about this one --
Home
, from
The true meaning of Smekday,
a book described as being for children, catlovers, and anticipators of alien invasions, so presumably that holds true for the movie as well. For the movie you could add in Rihanna and Jennifer Lopez fans, since they are its stars.
Three older movies which I was happy to see named, as they belong to that category of book-movie duo where both are truly great in their own right, were
Willy Wonka & the Chocolate Factory
with Gene Wilder, from the
books
by Roald Dahl, Steven Spielberg's
Empire of the Sun
from J.G. Ballard's novel inspired by his experiences of growing up in Shanghai during World War II, and Milos Forman's masterpiece
One flew over the cuckoo's nest
, from the
book
by Ken Kesey.
Here are a few more (not in order) recommendations for movie/book combos which I put in that same double-win category:
1 and 2. The big sleep, based on the
book
by Raymond Chandler, and The Maltese falcon based on the
book
by Dashiell Hammett, two masterpieces of film noir starring the best trenchcoat wearer ever, Humphrey Bogart. You can get them both at one fell swoop with
Humphrey Bogart: the essential collection
.
3. Or even better, get
Murder Mysteries
from the Greatest Classic Films collection and you'll get them both PLUS the original and unsurpassed The postman always rings twice, with Lana Turner and John Garfield, also in the noir pantheon along with the original novel by James M. Cain.
4.
The Shawshank redemption
based on the novella "Rita Hayworth and the Shawshank Redemption" (originally titled "Hope Springs Eternal") in the collection
Different seasons
by Stephen King. Simply, on my honour roll of perfect films. And it has a happy, if bittersweet, ending!
5.
A Clockwork Orange
, directed by Stanley Kubrick and based on the
book
by Anthony Burgess. Revolutionary when it came out and nothing that came later has dulled its edge.
6. The 1962
Lolita
, the definitive one, Stanley Kubrick again, from the
novel
by Vladimir Nabokov, which some people have chosen for their banned book challenge.
7. I should have just made a Stanley Kubrick section! The terrifying
The shining
, from the
book
by Stephen King. "Wendy, I'm home!"
8.
Trainspotting
, mentioned above, directed by Danny Boyle, based on the
book
by Irvine Welsh. "Choose life!". This is the book/movie where one of the characters illustrates his creed on aging by arguing that Sean Connery's star turn in The name of the rose, mentioned above, was "merely a blip on an otherwise uninterrupted downward trajectory".
9.
Blade Runner
, directed by Ridley Scott from the book
Do androids dream of electric sheep?
by Philip K Dick. I confess that in this case I haven't actually read the book, but I'm putting it in anyway because sci-fi cognoscenti all say it's a great read. For sci-fi lovers. Whereas the film is for everyone.
10.
To Kill a Mockingbird
, from the
book
by Harper Lee, starring Gregory Peck from my hometown, Gregory Peck who can never not be Atticus Finch for you once you've seen this movie, no matter how many times he buzzes around Rome with Audrey Hepburn on his vespa.
11.
Fight club
from the
book
by Chuck Palahniuk. I'm thinking this could be the one time where the movie might actually be better than the book, but don't jump on me if you don't agree, I'm not
sure
-sure!
12.
All Quiet on the Western Front
- an oldie, way back from 1930, from the
novel
by Erich Maria Remarque published the year before, another banned book for your Challenge 13. Yes, it was not allowed to be published in Fascist Italy and Nazi Germany, for its pacifism, or as some might say, its realism.
13.
No country for old men
, by Joel and Ethan Coen, from the
book
by Cormac McCarthy. For me this was one of those movies that was not at all what you had pictured, but then it becomes your vision too. I simply hadn't been able to imagine the levels that 'menace' could ascend to.
15.
The remains of the day
, directed by James Ivory, from the
book
by Kazuo Ishiguro. As always with Ivory, every detail is in tone. But I include it above all for Anthony Hopkins's performance. Which reminds me, I should put
The silence of the lambs
here too, from the
book
by Thomas Harris.
16. Change of mood to silly, heartwarming, magical
Babe
, from the book by Dick King-Smith called
The sheep-pig
, reprinted after the movie under as
Babe: the gallant pig
.
17.
Brokeback Mountain
, directed by Ang Lee, based on
a short story
by Annie Proulx, a format which I suspect was responsible for her being able to say "I may be the first writer in America to have a piece of writing make its way to the screen whole and entire."
18.
The man who laughs
, from the
book
by Victor Hugo. If you enjoy an occasional high tragic drama, this is for you. A young man who was disfigured as a child by a band of misfits who gave him what I discovered is called a "Glasgow smile", and the beautiful blind girl who thinks, from touching his face, that he is always happy.
19.
LA Confidential
, based on the
novel
that won James Ellroy his place among the gods of
noir
. Some changes to the plot in the movie don't change that.
20. What did I choose for this challenge? I watched The lady in the van, which I thought was superbly done. It turned out to be one of those movie versions where the characters as brought to life are very different from how you had imagined them, but nonetheless completely compelling. I had pictured Miss Shepherd as more petulant and more faded than the dogmatic and disdainful Miss Shepherd which Maggie Smith gave us, but I liked the greater toughness and thus more startling vulnerability.
But I also decided to re-watch the most terrifying movie I have ever seen, the one I can't believe my parents took their kids to see, even if it was showing at their favourite little art house theatre which usually showed Ingmar Bergman-type movies which might have gone over our heads but certainly not traumatised us. It's the 1946 black and white version of
Great Expectations
, directed by David Lean.
Two things happened. One was that watching it now as an adult, having seen hundreds of films, I found myself constantly thinking how it was one of the most perfect movies ever made. And two, the scene when the huge, scary, escaped convict Magwitch jumps out from behind the tombstone in the cemetery thick with mist almost stopped my heart, again. On the other hand, it was interesting to see that while for all these years I have remembered seeing Miss Havisham burn up, down to her terrified eyes, it turns out that actually we are only shown the log rolling out of the fire and starting the hem of her cobwebby old wedding dress blazing. It's her horrible screams that let us imagine what later I was sure I had seen.
Ah, movies.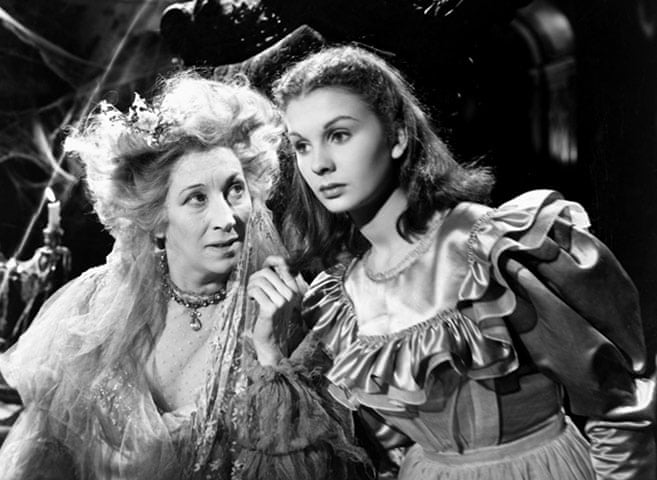 Photo: Allstar/THE RANK ORGANISATION FILM PRODUCTIONS LTD/Sportsphoto Ltd./Allstar